I 100 video musicali più belli del secolo – la classifica di Billboard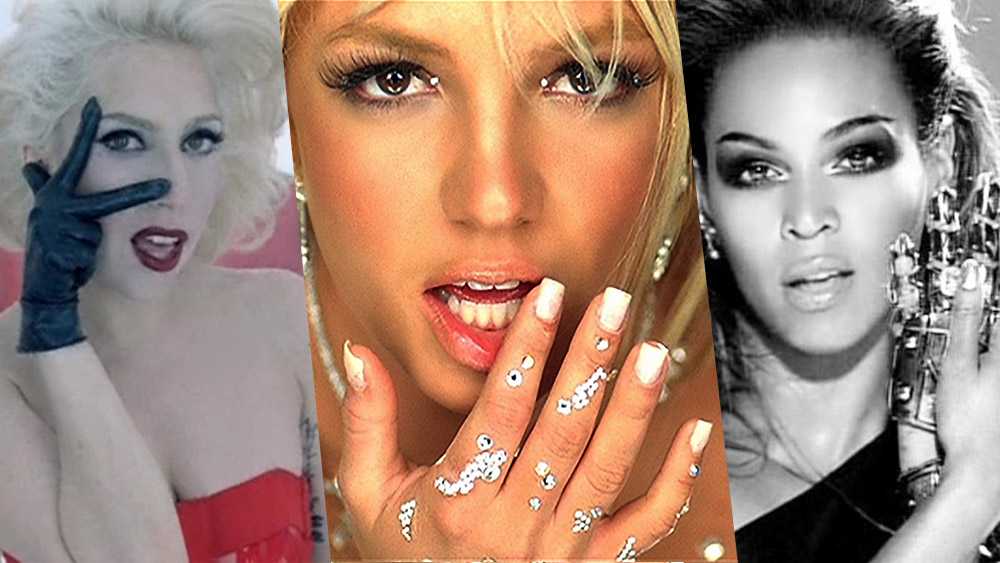 E se il RollingStone ha stilato la classifica delle canzoni migliori del secolo, Billboard ha risposto oggi con quella dei video: The 100 Greatest Music Videos of the 21st Century.
Sono abbastanza d'accordo con la numero uno che è andata a Bad Romance di Lady Gaga (vero capolavoro) e anche con le posizioni di Toxic e Single Ladies.
Trovo invece assurdo che non sia stato inserito Look What You Made Me Do di Taylor Swift (uno dei video più belli del puttanpop) e che di Katy Perry ci sia solo un video (almeno E.T e The One That Got Away meritavano di comparire tra le 100 posizioni).
B!tches siete d'accordo con questa classifica?
100. Fall Out Boy, "Sugar We're Goin Down" (dir. Matt Lenski, 2005)
99. Shakira, "Whenever, Wherever" (dir. Francis Lawrence, 2001)
98. Scissor Sisters, "Let's Have a Kiki" (dir. Vern Moen, 2012)
97. Adele, "Rolling in the Deep" (dir. Sam Brown, 2010)
96. Frank Ocean, "Pyramids" (dir. Nabil Elderkin, 2012)
95. The Avalanches, "Frontier Psychiatrist" (dir. Tom Kuntz & Mike Maguire, 2000)
94. Ariana Grande feat. Zedd, "Break Free" (dir. Chris Marrs Piliero, 2014)
93. Aaliyah, "Rock the Boat" (dir. Hype Williams, 2001)
92. Girls' Generation, "Gee" (dir. Cho Soo-hyun, 2009)
91. Tim McGraw, "Humble and Kind" (dir. Wes Edwards, 2016)
90. Marina & The DIamonds, "How to Be a Heartbreaker" (dir. Marc & Ish, 2012)
89. Mitski, "Your Best American Girl" (dir. Zia Anger, 2016)
88. Kanye West feat. Dwele, "Flashing Lights" (dir. Spike Jonze, 2007)
87. David Bowie, "Lazarus" (dir. Johan Renck, 2016)
86. The Lonely Island, "Lazy Sunday" (dir. Akiva Schaffer, 2005)
85. Grimes, "Kill v. Maim" (dir. Claire Boucher & Mac Boucher, 2016)
84. Alicia Keys, "You Don't Know My Name" (dir. Chris Robinson, 2003)
83. Residente, "Descencuentro" (dir. Residente, 2017)
82. FKA twigs, "Papi Pacify" (dir. Tom Beard & FKA twigs, 2013)
81. A$AP Rocky, "Peso" (dir. Abteen Bagheri, 2010)
80. Miley Cyrus, "We Can't Stop" (dir. Diane Martel, 2013)
79. Madonna, "Hung Up" (dir. Johan Renck, 2006)
78. Toby Keith, "Red Solo Cup" (dir. Michael Salomon, 2011)
77. Gotye feat. Kimbra, "Somebody That I Used to Know" (dir. Natasha Pincus, 2011)
76. ANOHNI, "Drone Bomb Me" (dir. Nabil Elderkin, 2016)
75. Kendrick Lamar, "i" (dir. Alexandre Moors, 2014)
74. Dua Lipa, "New Rules" (dir. Henry Scholfield, 2017)
73. Janelle Monáe feat. Big Boi, "Tightrope" (dir. Wendy Morgan, 2010)
72. Sum 41, "Fat Lip" (dir. Marc Klasfeld, 2001)
71. Kylie Minogue, "Come Into My World" (dir. Michel Gondry, 2002)
70. Ozuna, "Se Preparo" (dir. Nuno Gomes, 2017)
69. JAY-Z, "The Story of O.J." (dir. JAY-Z & Mark Romanek, 2017)
68. Kesha, "Blow" (dir. Chris Marrs Piliero, 2010)
67. BTS, "Blood, Sweat & Tears" (dir. Choi Yongseok & Ko Yoojeong, 2016)
66. Ludacris feat. Shawnna, "Stand Up" (dir. Dave Meyers, 2003)
65. Red Hot Chili Peppers, "Californication" (dir. Jonathan Dayton & Valerie Faris, 2000)
64. Missy Elliott, "Gossip Folks" (dir. Dave Meyers, 2002)
63. Ciara, "Promise" (dir. Diane Martel, 2006)
62. Bat for Lashes, "What's a Girl to Do" (dir. Dougal Wilson, 2006)
61. Rihanna, "Bitch Better Have My Money" (dir. Rihanna & Megaforce, 2015)
60. Justice, "D.A.N.C.E." (dir. Jonas & Francois, 2007)
59. Robyn, "Call Your Girlfriend" (dir. Max Vitali, 2011)
58. Christina Aguilera, "Beautiful" (dir. Jonas Åkerlund, 2002)
57. UGK feat. OutKast, "International Players Anthem (I Choose You)" (dir. Bryan Barber, 2007)
56. Beyoncé, "7/11" (dir. Beyoncé, 2014)
55. Justin Bieber, "Sorry" (dir. Parris Goebel, 2015)
54. Iggy Azalea feat. Charli XCX, "Fancy" (dir. Director X, 2014)
53. Bruno Mars & Cardi B, "Finesse" (Remix) (dir. Bruno Mars & Florent Dechard, 2018)
52. Taylor Swift, "You Belong With Me" (dir. Roman White, 2009)
51. Lana Del Rey, "National Anthem" (dir. Anthony Mandler, 2012)
50. The Diplomats, "Dipset Anthem" (dir. N/A, 2003)
49. Snoop Dogg feat. Pharrell, "Drop It Like It's Hot" (dir. Paul Hunter, 2004)
48. Orange Caramel, "My Copycat" (dir. Digipedi, 2014)
47. Drake feat. Lil Wayne, "HYFR (Hell Ya **** Right)" (dir. Director X, 2012)
46. Christina Aguilera, Lil' Kim, Mya & Pink, "Lady Marmalade" (dir. Paul Hunter, 2001)
45. Tierra Whack, "Whack World" (dir. Thibaut Duverneix and Mathieu Leger, 2018)
44. Carlos Vives, "La Tierra del Olvido" (dir. Carlos Vives, 2015)
43. Johnny Cash, "Hurt" (dir. Mark Romanek, 2003)
42. JAY-Z, "99 Problems" (dir. Mark Romanek, 2004)
41. Avril Lavigne, "Complicated" (dir. The Malloys, 2002)
40. Lady Gaga, "Paparazzi" (dir. Jonas Àkerlund, 2009)
39. Kanye West feat. Pusha T, "Runaway" (dir. Kanye West, 2010)
38. Gwen Stefani, "Hollaback Girl" (dir. Paul Hunter, 2005)
37. Nicki Minaj, "Anaconda" (dir. Colin Tilley, 2014)
36. Rihanna feat. JAY-Z, "Umbrella" (dir. Chris Applebaum, 2007)
35. Dixie Chicks, "Goodbye Earl" (dir. Evan Bernard, 2000)
34. Eminem, "Without Me" (dir. Joseph Kahn, 2002)
33. Britney Spears, "Oops!… I Did It Again" (dir. Nigel Dick, 2000)
32. Tyler, the Creator, "Yonkers" (dir. Wolf Haley, 2011)
31. Carly Rae Jepsen, "Call Me Maybe" (dir. Ben Knechtel, 2012)
30. Fountains of Wayne, "Stacy's Mom" (dir. Chris Applebaum, 2003)
29. Luis Fonsi & Daddy Yankee, "Despacito" (dir. Carlos Peréz, 2017)
28. Missy Elliott, "Get Ur Freak On" (dir. Dave Meyers, 2001)
27. Charli XCX, "Boys" (dir. Charli XCX & Sarah McColgan, 2017)
26. Christina Aguilera feat. Redman, "Dirrty" (dir. David LaChapelle, 2002)
25. The White Stripes, "Fell in Love With a Girl" (dir. Michel Gondry, 2002)
24. Justin Timberlake, "Cry Me a River" (dir. Francis Lawrence, 2003)
23. Katy Perry feat. Snoop Dogg, "California Gurls" (dir. Matthew Cullen, 2010)
22. M.I.A., "Bad Girls" (dir. Romain Gavras, 2012)
21. *NSYNC, "Bye Bye Bye" (dir. Wayne Isham, 2000)
20. OK Go, "Here It Goes Again" (dir. Trish Sie, 2006)
19. Miley Cyrus, "Wrecking Ball" (dir. Terry Richardson, 2013)
18. Sia, "Chandelier" (dir. Sia & Daniel Askill)
17. My Chemical Romance, "Helena" (dir. Marc Webb, 2005)
16. Drake, "Hotline Bling" (dir. Director X, 2014)
15. Kendrick Lamar, "HUMBLE." (dir. Dave Meyers & The Little Homies, 2017)
14. Lady Gaga feat. Beyoncé, "Telephone" (dir. Jonas Åkerlund, 2010)
13. Taylor Swift, "Blank Space" (dir. Joseph Kahn, 2015)
12. PSY, "Gangnam Style" (dir. Cho Soo-Hyun, 2012)
11. JAY-Z & Kanye West, "Otis" (dir. Spike Jonze, 2011)
10. Childish Gambino, "This Is America" (dir. Hiro Murai, 2018)
9. Fatboy Slim, "Weapon of Choice" (dir. Spike Jonze, 2000)
8. Beyoncé, "Single Ladies (Put a Ring on It)" (dir. Jake Nava, 2008)
7. Britney Spears, "Toxic" (dir. Joseph Kahn, 2004)
6. Rihanna & Calvin Harris, "We Found Love" (dir. Melina Matsoukas, 2011)
5. OutKast, "Hey Ya!" (dir. Bryan Barber, 2003)
4. Beyoncé, "Formation" (dir. Melina Matsoukas, 2016)
3. D'Angelo, "Untitled (How Does It Feel?)" (dir. Paul Hunter, 2000)
2. Missy Elliott, "Work It" (dir. Dave Meyers, 2002)
1. Lady Gaga, "Bad Romance" (dir. Francis Lawrence, 2009)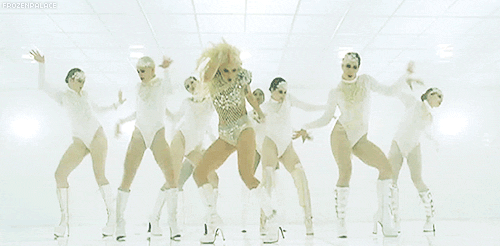 Fonte: Billboard