Home »
POP NEWS »
Beyoncé e Jay Z: un esaltato salta sul palco, li rincorre e scatena il panico (VIDEO)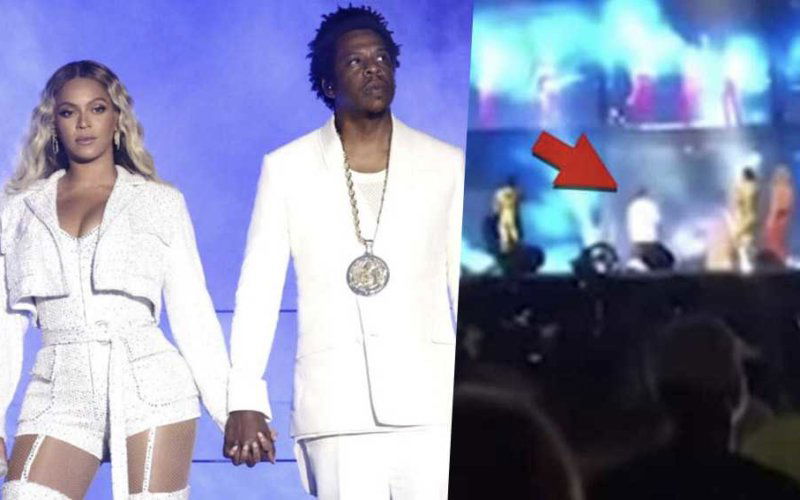 Beyoncé e Jay Z: un esaltato salta sul palco, li rincorre e scatena il panico (VIDEO)
Durante la tappa di Atlanta del tour di Jay Z e Beyoncé, un esaltato è saltato sul palco per raggiungere la coppia.
L'uomo ha scatenato il caos tra i ballerini e i ragazzi della sicurezza, che hanno cercato di fermarlo.
A fan chased after Beyoncé & JAY-Z on stage tonight and the dancers tried to stop him! #OTRII #Atlanta pic.twitter.com/0kEtZ6yotb

— Music News Facts (@musicnewsfact) 26 agosto 2018
Wow, a fan jumped on stage in Atlanta at the #OTRII Tour. Security and background dancers got to him before he got to Beyonce and Jay Z. 👊🍾 pic.twitter.com/i6jEK5Qfnu

— PreciseEarz.com (@PreciseEarz_) 26 agosto 2018
La coppia ha anche rilasciato un comunicato stampa. Il team di Queen B e Jay Z ha fatto sapere che nessuno è stato ferito e che i due cantanti hanno deciso di non sporgere denuncia contro il folle.
Beyoncé and Jay-Z have released an official statement on the incident last night, where a fan went on stage and chased after them.

"We are happy to confirm that nobody was hurt during the incident, and Mr. & Mrs. Carter are choosing not to press charges against the individual." pic.twitter.com/MvsTsHtvvN

— Pop Crave (@PopCrave) 26 agosto 2018
What we know:
A "drunk" Beyoncé fan threw a punch at Jay, and all of the dancers tried to break up the fight.
The man had supposedly climbed over a barrier and jumped onto the runway of the stage.
The man "hates Jay-Z" because he cheated on Beyoncé.
Bey and Jay are unharmed.

— BEYONCÉ HUB (@theyoncehub) 26 agosto 2018